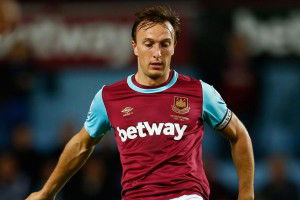 West Ham captain says that some younger players are affected by comments on social media and keyboard warriors they should think about their actions and remain positive on social media. While he claims he is not fussed about personal criticism of himself he questions whether social media would have got Curbishley sacked or Tevez dropped in 2007 before they went on a seven-game win streak which saved the Hammers from relegation.
Noble penned on WHUFC.com "As much as we try to ignore the comments made on social media, sometimes they are unavoidable and while I'm not fussed about whether I get stick or not, some players are affected by it.
I think back to exactly ten years ago, when we were bottom of the Premier League.
If social media existed then like it does today, people would have been calling for Alan Curbishley to be sacked or for all the players to be dropped, including Carlos Tevez!
Then what happened? Everything clicked and we won seven out of our last nine games to stay up!
Times are different now. Instead of walking out of the ground and having a moan to your mate or your Dad, some people leap straight on social media and troll the player directly.
You have a right to moan, of course, but negativity spreads and it can affect everyone, especially younger players who have not developed a thick skin like us more experienced ones.
What I am saying is that we need to be positive, inside the dressing room, in the stands and on social media.
I play under a manager who gives 100 per cent every day, and when the players are not doing likewise, I'll be the first person in the dressing room to go around and tell them to pull their socks up.
Come on you Irons!
Mark Noble
Captain"