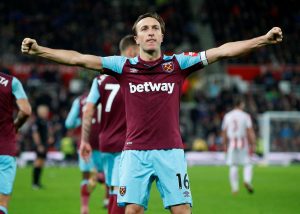 Mark Noble as well pleased to pick up a point in difficult injury circumstances against Palace last night.
Speaking after the game he told the official site: "I think it was similar to our last league match against Bournemouth, we started well, couldn't quite find the end product, went 1-0 down and managed to come back which is a good thing.
"Joao and Chicha did fantastic for the penalty, and I think all-in-all Crystal Palace will say the same thing – that a point was fair.
"[The bottom half of the table is very tight and] that's the way it's going to be now, with the money that's involved in football and the players that all Premier League teams can buy. It's going to be a fight to the end.
"From bottom to ninth or tenth, everyone is still trying to avoid relegation. A point tonight is good, it means we're still unbeaten in the league this year and it keeps the mood in the camp good."
Noble was pleased with the performance of new boy Mario saying: "We haven't really trained together. We did a walk-through yesterday and the boys who played in the Cup game at the weekend have literally done a piggy-in-the-middle with us all, so to come into a Premier League game on a pitch that big, he looked really comfortable.
"No pressure Joao, but I'm looking forward to when he's up and running!"