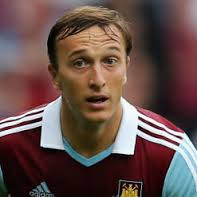 Mark Noble is all set to sign the new deal West Ham's owners plan to put in front of him at the end of the season.
The club holds a two year option which they will renew whilst offering another four year deal to the club loyalist.
And Noble has given his strongest indication yet he's ready to say "show me where to sign."
In an interview with the London Evening Standard, he said: "Things are looking up. We are moving into a top stadium, which is one of the best in the world, and we have made some top signings.
"If we can keep doing that, keep playing the way we are and keep the squad together, then I would like to stay and be a part of that.
"You can't move into a stadium like that without ambition. The chairmen have put their hands in their pockets and bought some top players this year and that is what we keep needing  to do."