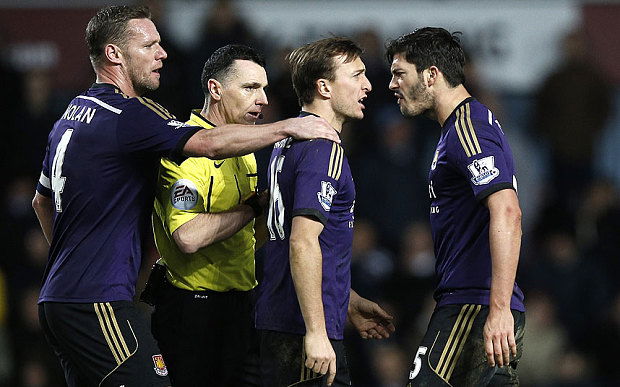 Mark Noble has made it clear that the big row he and James Tomkins had during the FA Cup replay against Everton on Tuesday night WILL be repeated.
The pair had to be pulled apart as they clashed but Noble declared: "Tomks and I are like that all the time in training. We've done it in the past — and it certainly won't be the last.
"It was a little bit of frustration on both our parts, with them going down to ten men and scoring. We actually live on the same street — so I might walk down the road soon and egg his house!"
Today they will recall last season's affair when Sam Allardyce cupped his ear at the booing crowd after what may have been the worst Hammers display in recent seasons. despite the 2-1 win.
Noble said: "I remember that game and the frustrations we had. Hull went down to ten men and we scored late on to win it.
"I wrote a statement on the website saying it was hard for the boys who were confidence players — and that the crowd getting on their backs would just make it worse.
"The next week, the fans were fantastic. They realised with the position we were in, that it was tough. We were playing without a striker for a lot of the season, we did not have a lot of fit players and needed the crowd behind us."
Noble, 27, said: "We needed the crowd behind us when things got tough against Everton — and they did that because we've been getting results and producing good performances this season."
He added: "Last year, if we didn't have the team spirit we've got here we'd have probably gone down. But we had a meeting and said 'This isn't good enough' then we won four games on the bounce and that took us from second-bottom to tenth.
"We had five days in Dubai where we trained, rested and had a bit of sun. It was good for us. And we came back and won another game. We ended the season 13th from looking like we were going to get relegated.
"So we know last season wasn't good enough. But we signed some good players in the summer and it helps when you've got someone like Diafra Sakho, who comes in and scores eight goals on the bounce. If you score goals you win games."
The pressure now is to win Premier League matches and stay in the European chase and Noble admitted: "It's very different. We understand we're in a good league position but the pressure going out there now is that we've got to win games.
"The whole vibe is different and we've got time to push on."