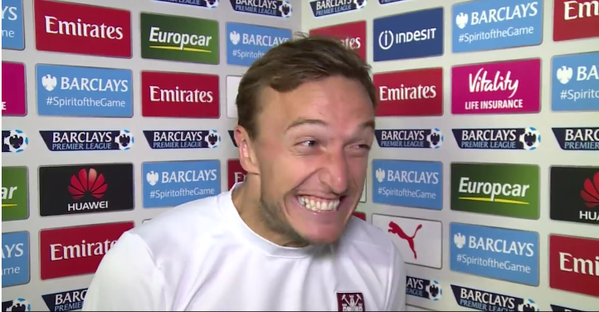 Mark Noble has been allowed to talk about the club, his position in it, what he wants for his future at West Ham, how he grew up and was forced to move several times as part of a council estate dwelling family, how some  don't have the mental capacity to cope and has even touched on the Government not agreeing with itself.
You will need to turn to to the link here if you wish to read the entire interview as the club's media department has produced its normal trick of choosing a favourite newspaper to report a particularly interesting piece rather than put it on its own website or share it with any of the daily West Ham dedicated fans sites. https://www.dailymail.co.uk/sport/football/article-7665903/Mark-Noble-long-standing-favourite-wants-decision-maker-West-Ham.html
It's the old media way of doing things of course rather than recognising the world at large has moved on and tends to look to pixels and club dedicated sites rather than print.
Our sympathies go out to Mark for having to give his views to the Mail, as we would were it had been a particular tabloid, which will remain unnamed.
And YES we are annoyed that such an interview was given to one newspaper rather than being shared across the West Ham United digital media where people dedicate their lives to bringing news of our favourite club to be regularly ignored when exclusive interviews are being handed out.
We won't run the whole piece – there's too much of it – but here are some of the points Mark raises:
"I would like one day to be involved in decisions that the club makes. I feel I have enough experience to do that. I have been around so long. I know how the club works.
'So I would like to be where you have decisions on all kinds of bits and pieces, and not just coaching the under-18s, if you know what I mean? Whatever happens, I am always going to be attached to this club. I hope so, anyway. It's been blood, sweat and tears for West Ham for so long.'
'There are dozens who play a few games and end up leaving because mentally they can't cope. But every minute I play now is special. There aren't many playing regularly in the Premier League at my age. Look at Chelsea — the average age is 23
His family lived in council accommodation and moved 'six or seven times'. He recalls: 'We moved because we either couldn't afford the rent or there was a development going up and they wanted us out.
We didn't have anything. But we had food. Now people haven't. 'That's why we are here today, to let people know people are starving. I know that sounds dramatic, but it's a big problem round here. The current government can't even get along with each other, never mind tackle important stuff like this. 'Today highlights what is happening in the borough of Newham.'
Bet that went down well on the Mail's political desk!!!!!
And on the move from Upton Park:
'I would like to think the club has the same morals and values. As long as I am here I would like to keep that. It makes me proud that people say they visited the club and saw Shirley, or Jimmy, or Peter the kitman, and they made them a cup of tea and made them feel welcome. 'We must never go away from that. Yes, this place is a bit different but I would like to say that other important things are the same.'
There's more but sadly you will need to turn to the newspaper concerned to read it. Would have been nice to have seen it shared with the rest of us across the West Ham media community but apparently that's not the way things work within the WHUFC media department.