Mark Noble is looking forward to getting an early glimpse of Manchester City in China declaring: "It's only our second game in preseason so we're still not fit and we need to get some minutes under our belts.
So playing against the champions will help because they are really good – they always are!"
The PL champions have had flight delays  and may not arrive in the Far East until Tuesday, but the Hammers skipper  knows City present the toughest of tests, no matter the circumstances.
He said: "They've had a lot of players away on international duty, so I don't know what sort of squad they'll bring, but they've got a fantastic squad. You want to test yourself against the best and they are the best."
Nobes is enjoying his Chinese experience as City bid to reach the country declaring: "It's exciting and we're looking forward to it.
We knew it was going to be a long journey, of course, but to be here now in a beautiful place is great and we're looking forward to the game on Wednesday.
He was part of the Hammers squad which took part in the same tournament in Beijing ten years ago – the last time the competition was held in mainland China – and says he cannot wait to step back on the pitch in the world's largest country again this week.
"Was it ten years ago?!" he smiled. "I just remember how hot and humid it was, but it was a fantastic occasion for us, especially for me as a young boy of 22 back then.
"Seeing different parts of world, as we did in Beijing back then and Nanjing and Shanghai this time around, is special.
"We know the Premier League goes around the whole world and is such a global brand now, which is why we get the opportunity to come to places like this and play.
This year, we've already been to Switzerland and Austria and now we've come to China and we're really looking forward to training, playing, seeing some sights and having an enjoyable week."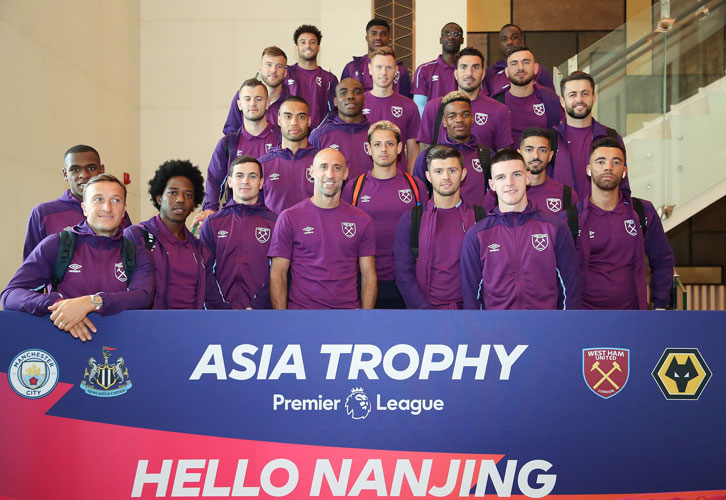 Wednesday's Premier League Asia Trophy semi-final will be broadcast live in the UK by Sky Sports, with kick-off at 1.30pm BST.