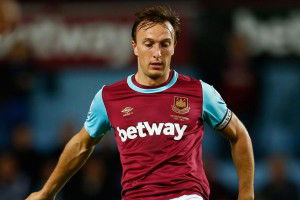 Mark Noble could hardly be more delighted with the massive win over Spurs which saw us retain our Premier League position for next season.
The captain was in great form and truly led from the front before congratulating each and every one of the players after the game.
He said: "I'm speechless really. The boys were fantastic – it was a great performance from every one of us. We needed to be at 100 per cent and we were.
"It's great for the manager and for the fans. It was fantastic and I can see them walking into the offices or wherever they work on Monday morning with broad shoulders, their chins up high and a massive smile on their face.
"We deserved it, we played so well. We had a couple of chances early doors and it was just a really good team performance. We know we can play like that, but it's been a tough season and the boys have dug in fantastically."
"Getting that kind of result against Tottenham makes it even more special. We should have beaten them at their place. Two goals in two minutes at the end really hurt.
"The atmosphere on Friday was unreal, and we've beaten Spurs at home which puts us safe. I don't like saying the word safe because it actually puts us in the top half of the table. If we win next week we could finish one or two places below where we finished last year.
"At the end of the day, let's hope we can finish strongly."
He continued: "I love Manu (Lanzini): . He's great at scoring in derbies, isn't he? He's our little gem as they call him and that's why we're in the team, to do the hard work and grind it out and let Manu be our special little player.
"The last two games I've played here, especially, against Swansea and Tottenham, have really started to feel like home.
"I couldn't have asked for a better outcome than Friday, coming back into the starting line-up for a game like that."