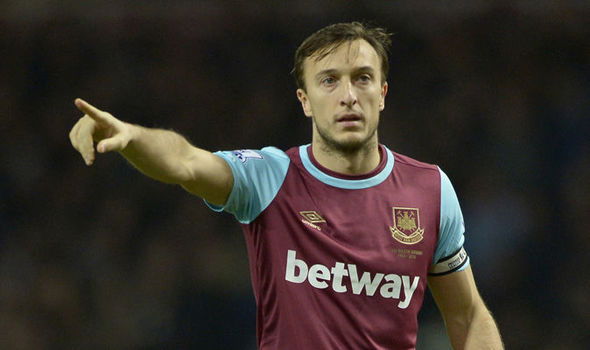 Mark Noble has thanked the fans for their fantastic support  during yesterday's game and said: "That was probably the best atmosphere, for a game of that pressure against Swansea, that we have played in at this Stadium and I thought the fans were great and really helped."
Talking to West Ham TV he said: "I said a few weeks ago about social media and how much the negative comments can damage the players' confidence and stuff like that but I've seen a lot of positive stuff over the last couple of weeks, with people saying 'We have got to go to the ground and support the lads and get behind them because we're all in it together.'
But he admitted: "To be honest, it's been a horrible week for me personally because I can never relax.
We knew Arsenal was a tough place to go on Wednesday night and we played well in the first half and wanted to get a result there, so to lose and make it five losses in a row and then play like we did under a lot of pressure was brilliant.
"We had a lot of players who haven't played a lot of football – Ginge has played three games in a week now, Arthur Masuaku hasn't played a lot, nor has Sam Byram, so I'm just really, really proud of the lads.
"You never know what's going to happen. I've had that feeling in my belly the whole week where I just wanted the game to be over and done with and to sit on Saturday night and enjoy a win. Saturday was fantastic and it was just a pure relief."
Noble had  words of praise for Jonathan Calleri, who replaced the injured Michail Antonio saying: "I said to the lads at half-time before the gaffer came in and said his bit 'Look, this is probably the most important 45 minutes you'll play for a long time and you need to get your head around that and around the fact we need to win this game, simple as that.
"And I said to Jonny that we needed him desperately and I thanked him after because I thought he was incredible. Jonny came on and massively helped us win that game.
"Sam Byram was unbelievable and some of Ginge's heading in the box was fantastic. It was a back four chucked together because we've got so many players out, but they were really good."
It was  the skipper's 400th appearance for the Irons but said: "You don't really count, you just play every game as it comes and give everything and to have played 400 for this great club and captain it, obviously is an honour.
"We've had ups and downs this year, but I'll always give a million per cent out on the pitch and on Saturday it wasn't just me, but all of us who dug in and got the three points."
Despite picking up a yellow card – his tenth of the season which rules him out of the next two games – the captain will be in Sunderland at the weekend adding "I'll be going up with them, for sure.
"I wouldn't be able to relax otherwise. My Saturday would be the worst Saturday in history if I didn't go. I need to be there, so I'm pretty sure the manager will be happy with me travelling up with the lads and supporting them, because obviously we're in this together.
"We'll take a lot of fans to what is another important game for us and I believe we can go there after Saturday and get a result."