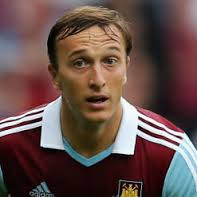 Mark Noble believes the Hammers are set to hit back in what he's described as the 'freakiest season ever.'
Steve Bruce brings his Hull City to the Boleyn on Wednesday night and realistic Noble knows just how tough it's going to be.
He said:  "Obviously we've gone from an unbelievable run of wins on the bounce and now we've had three losses in a row.
"I think you'd agree with me that this is one of the freakiest seasons you've ever seen and the tightest.
"There are probably only two teams that aren't playing for anything, Newcastle and Southampton, and the rest of us are in a scrap, whether it is for the Europa League, Champions League or the fight to avoid relegation.
"It is going to be tough. We've still got eight games left and we've got to put some points on the board.
"Obviously it a big game on Wednesday. Hull beat West Brom on Saturday so they are going to have confidence, but we need to play like we can do at home."
Noble, meanwhile has been musing over Wayne Rooney's extraordinary opening goal against us at the weekend and knew it was 'in' from the moment it left the striker's boot.
He said: "I was standing behind it. As soon as it came down and as soon as he hit it I said 'you've done him, it's in'.
"It looked in all the way and I think one of the boys said after that he only hit it because he thought it was a foul.
"You can't take anything away from him, though. It is probably the goal of the season and one of the best goals he has ever scored and he has scored some special ones.
"I don't think there was much in the game up until then and obviously for the second unfortunately the ball came in, I saw it late and I tried to clear it and it has hit him and gone in.
Talking to www.whufc.com he said: "It is was his day today but, to be honest, I don't think there was much in the game. I thought we had some chances but it didn't fall for us."