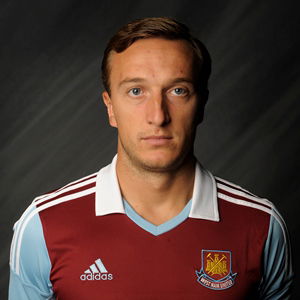 Mark Noble refused to be downbeat following what most saw as a disappointing Europa Cup draw in Romania last night.
The captain scored the precious goal which makes us big favourites for the return leg but admits the squad were disappointed at the outcome.
But he declared: "You don't just turn up on a pitch like this and turn teams over. That is not the way it works but we got punished for not taking our chances. I was proud of the lads and thought Jonathan Calleri looked sharp on his debut."The lads are disappointed but we have come out to Romania after playing a game on Monday and thought we did really well in the first half.
"We got the goal that we deserved after having two cleared off the line. It was good to get a penalty and go 1-0 up, but it was obviously disappointing to concede a late goal."We have now got a big game on Sunday which we are looking forward to and I'm sure the fans will be behind us.
"We have picked up a few injuries which is not great and our thoughts go out to Andre [Ayew] who has suffered a tough time in just his first game.
"We had a lot of young players in the squad which is what this competition is for. If the squad is not big enough to play first-team players then you pick the youngsters which is what we have done. We got a draw and are now at home in the second leg."
Noble quickly turns his attention to the first ever Premier League game at the new Stadium against Bournemouth on Sunday and says it will be a special day for everyone involved with the football club.
"I am looking forward to Sunday and it is finally upon us. I have been waiting a long time for it.
"The three hour trip to Romania was not ideal three days before but we are football players and have to get on with it."