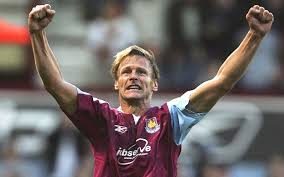 Teddy Sheringham was given a big welcome to the club by Mark Noble as the players returned to training.
The loyal midfielder said: "I think with bringing someone in with the knowledge and experience that he has got will be fantastic for the club.
"They've brought him to the club because of his knowledge of the game and what he has done over the past 20 years," Noble told Sky Sports News.
"Hopefully he will have an impact on how we play but he will be working with the forward boys primarily.
"It's all about being in the right place at the right time and hopefully he can pass that one to our forwards."
Tony Cottee is also confident that the arrival of Sheringham can signal an upturn in fortunes for his former club – but stresses that they will have to strike the right balance between attack and defence.
"I think it is a great appointment," he said. "Obviously, Teddy is a vastly experienced player and he is just branching out into the coaching world so it's a great for Ted and for the club.
"It is great that the fowards wil have someone like that to bounce ideas off and someone who has got that much experience, who has played for England and was a wonderful striker and scored some great goals. Hopefully some of his magic can rub off on our strikers.