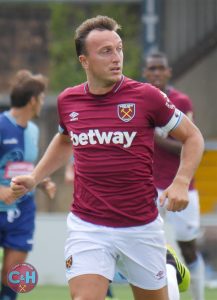 Mark Noble is determined to see the Irons extend their unbeaten run at the London Stadium tomorrow (Sat) declaring firmly they want to win the four games left in the season in front of the fans.
On paper it looks more than do-able but we have all learned the hard way that it doesn't always work out that was with our lot.
We have the Terriers tomorrow with Everton, Leicester City, Southampton to follow and those 12 points look very important indeed it we are to continue our challenge for seventh place.
There is of course the added incentive to put the awful Cardiff City match firmly behind us in front of the Hammers faithful.
We can probably expect one of two changes to the team as the manager tries to freshen things up after the Welsh disaster but either way Noble is determined that a winning performance has to be on the cards.
Writing in his column for Saturday's Official Programme  the captain said: "We are unbeaten at home since before Christmas and are all determined to keep that run going as long as we can. We've got four home games left to play and we want to win them all.
"We were good here against Newcastle last time out, getting a deserved win on a day when we all enjoyed honouring the great Billy Bonds. It was a day of which we can all be very proud.
"Last weekend at Cardiff, though, was not so memorable. We faced a team who were fighting for their lives, in conditions which suited them better than us, and sometimes results like that happen, even if you say or do all the right things in the build-up to the game. We couldn't cope with their approach, really. We had a lot of the ball, but we didn't create enough chances and we lost.
"We've lost games we hoped to win, like we did at Cardiff, but we've also won games we weren't expected to, like Manchester United and Arsenal here.
"Our away form is a concern, obviously, but we are still in ninth place and we want to finish as high up the table as possible.
"We have an opportunity to get back to winning ways and our recent home record has been really good, but it's the same situation as Cardiff last week. Huddersfield will come to us and give it everything, so it's going to be another tough game.