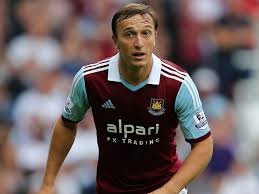 It's my birthday today so I can say what I like!  Oh and I get a wish!
But first, listen to the words of Mark Noble discussing the 1-0 win over Burnley's ten men.
He explained to the official site: "It's a massive result for us. The last couple of games have been against teams fighting for their lives and I've been in that position so I know how much you have a go.
"We knew it was going to be tough today, but once we got the penalty we found it pretty comfortable from there on really."
Burnley had a go did they? It was comfortable was it? And the result was "massive" eh? I thought it was 1-0 via a penalty which saw a bloke sent off for a foul when he should have remained on the pitch.
Football people have a habit of often murdering the English language before devaluing it. To describe a win over such a poor side as massive  only demonstrates how far West Ham have fallen this season.
Next comes his assertion that it was a comfortable win. I didn't think it looked particularly comfortable for him or Nolan, Jenkinson and several others.
Sam Allardyce didn't look particularly comfortable either although thankfully he didn't spend as much time as usual slumped in his seat! Perhaps he's been reading a few comments on certain forums!!!!
Massive result! Yeah I remember the same being said after the Sunderland result. That didn't go so well did it?
So with the end of the season thankfully just three games away and being bored rigid watching this stuff here's my birthday wish.
Mark Noble and the rest of you lads chose your words more carefully or put another way: Speak less SAY MORE!