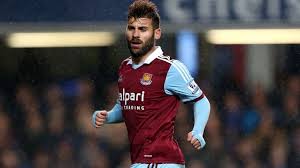 Antonio Nocerino knows all about being a "fallen giant" with AC Milan and hopes to play a part in shoving Manchester United back into crisis tonight!
And beyond that he is hoping his future is at The Boleyn on a long term deal.
He said: ""I like English football. It's a fast game and it's a league I've always watched from Italy and I'm very happy to be here, especially at West Ham because they've made me feel like it's a family. It's a nice environment and I think I made the right choice.
"I feel the Premier League suits my game. I think I can do well and stay here for a long time.
"I like it here and would love to play in the Premier League next season, hopefully at West Ham because they were the first team to knock on my door and trust me."
The on-loan  West Ham midfielder arrived from AC Milan in January and the crisis-hit San Siro club are now 11th in Serie A – a massive FORTY points behind leaders Juventus.
There's a distinct comparison to be drawn towards the English and Italian one time monster clubs and Nocerinto is happy to discuss it.
Talking to www.mirror.co.uk he said:  "The two clubs are sharing a particular moment, although Milan has changed a lot and United changed only the coach.
"We hope we can continue this negative time for Manchester United and put their defence in difficulty. When you play for a big team, you have to live with the pressure."
The 28-year-old admitted he was shocked by his sudden January exit saying: "I was sent away and when someone doesn't want you, it hurts "More at a human level than at a footballing level. I was not expecting to be treated like this. I have a bit of pride.
"The new coach, Clarence Seedorf, did not want to keep me. I have two years left on my contract but would like to stay in England – and stay here."