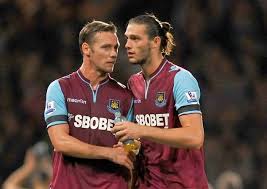 Kevin Nolan is backing his big buddy Andy Carroll to come good this season.
After spending most of last season receiving treatment for injury the AC could then only manage two goals and missed out on the World Cup as a result.
Now, however, Nolan is backing his pal to show Roy Hodgson that maybe that was a mistake and that he can show him so this season.
He said: "It was a huge disappointment for Andy not going to the World Cup, but seeing how they did, he probably looked and thought 'this is my chance now'.
"He has got the opportunity now to make sure he is fit and everything is in place for the European Championships when they come along in a couple of years time."