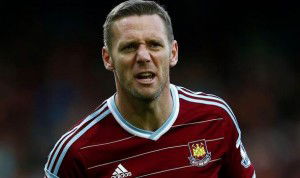 Kevin Nolan  has revealed that he is considering his future.
Speaking to London 24 he said: "I have been considering my future, without a shadow of a doubt, I am not one who wants to sit here on the bench, I won't continue to do it, just for the fact that if you are not good enough for one club you move on and you prove to someone else you are."
"I am not thinking about anything else except West Ham at the minute. I have had a fantastic time here; I love the club and the place. I have got such a great affiliation with everyone at the club and I want it to continue.
"All I have got to do is get the chance to play and I will be happy and we can go on from there. Sometimes you can't make everyone happy and you have to take that on the chin."
"It has been hard I am not going to deny it, but at the end of the day the only thing I have ever known is playing football, week in week out, so it has been difficult so when I get my chance I am going to try and take it, that is the only thing I can do now.
Having taken the mother and father of a bashing on social networks he added: "I have got nothing to prove to anyone. I have done a lot in my career and a lot of what has been said has been unfair, but that is life."
"I have come to the stage in my career with all the negativity surrounding me, I have just gone and take it on the chin. It is water off a duck's back for me.
"Sometimes it hurts of course, but I have got a fantastic family, fantastic support system and not just with family and friends but also within the club. I have just got to keep working hard on the training ground and hopefully I will get a chance"