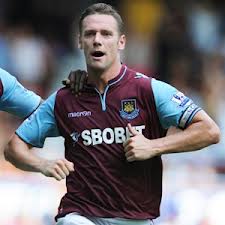 Wild rumours doing the rounds for years that Kevin Nolan has a special clause in his deal ensuring he makes the field of play if in the squad are 100 PER CENT FALSE!
As we head into the New year ClaretandHugh made it our business to find out once and for all the truth or otherwise of what sounds one of the dodgiest claims ever!
We were prompted by the piece on another Hammers website writted by Twitter Hammers source @ExWHUemployee.
Ex admitted he didn't believe it to be the case despite finding – after checking the record books – that Nolan appears to have featured at some stage every time he's been in the squad, "if only for a minute."
But he wrote: "However, I do not think this is written in his contract but I thought it was an interesting statistic."
Today we put the claims on two insiders extremely close to the situation and was told: "That is a totally  ridiculous claim – no club or manager would ever agree such a clause. It is 100 per cent b……s"
That's good enough for us – however attractive it maybe to believe the opposite!