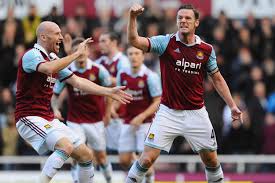 Kevin Nolan has given an update on his shoulder injury and is hoping to return in around four weeks time.
The player – in an interview with the official site – revealed that the normal recovery time was around six to eight weeks and that he was only two and half weeks into that.
And he admitted he was hoping it wouldn't be eight weeks it be only six. Anything before that would be another bonus.
He explained to www.whufc.com "It was an unfortunate incident really, I've ended up falling straight down on my shoulder and all my weight landed on it which forced it to crack.
The added pressure of Carlton Cole falling on top of me didn't help, but you know it's one of those unfortunate incidents."
He explained that he is now out of a sling and able to use the arm a little more.