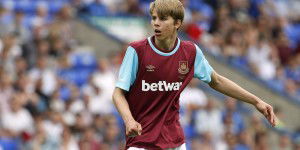 West Ham youngster Martin Samuelsen has spoken about how former Irons skipper Kevin Nolan took time out to help him after his arrival at Upton Park.
He said: 'I always try to get as much input on my game as I can, and obviously the senior players with their experience can teach me a lot. The one who taught me the most before he left was Kevin Nolan.'
Blowing Bubbles also midfielder Cheikou Kouyate who said the team need to start quicker and be more ruthless if they want to replicate their superb away form.
'
He said: We always improve in the second half, but we need to play the whole game at that same level,
like we did against Newcastle, when we were focused and played hard from the start. We want to win the games, just like the fans do.'
Blowing Bubbles also asks whether Victor Moses will finally live up to the hype, if Andy Carroll is now drinking in the very last chance saloon and if James Tomkins has done enough to become our main right back.
The latest issue of Blowing Bubbles Monthly is now available to read for FREE on your computer, tablet or mobile phone.