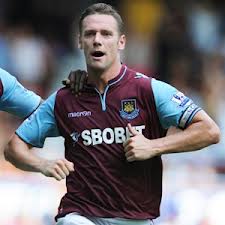 Kevin Nolan has returned to form with a bang and now reckons the Hammers are "going to get results everywhere."
After what may have been the worst month of his career, the skipper is ready to score the goals that will drive us up the league.
Speaking to the official site after the great 2-0 victory over Aston Villa, he said:  "It's the first time we've got back to back wins since we've been back in the Premier League and we're delighted because it's been a tough old season with all the injuries and suspensions. You're seeing now what we're all about.
"When we've got everyone fit and when we've got everyone playing we're going to get results everywhere.
"I think this is the start of a good run between now and the end of the season and if I can keep chipping away and get a few more goals then hopefully that'll be a little way of paying back the stupidity that I suffered over the last month.
"I'm feeling really good. Eamon Swift [fitness coach] worked tirelessly with me and Monte [Mathew Monte-Colombo, strength & conditioning coach] in the gym too.
"I worked my socks off because I wanted to show that when I got back in the team I was bang at it. I knew that I could give the team goals once I was back in it.
"I've worked with the gaffer since I was 17 years old and I can't thank him enough for everything he's done for me, especially over the last month when it's been really tough.
"I really knew when that happened on New Year's Day that the lads and the gaffer had my back and I was overwhelmed by it.
"The last couple of weeks, with the goals, that's my little way of trying to give a bit back for the support they've given me."