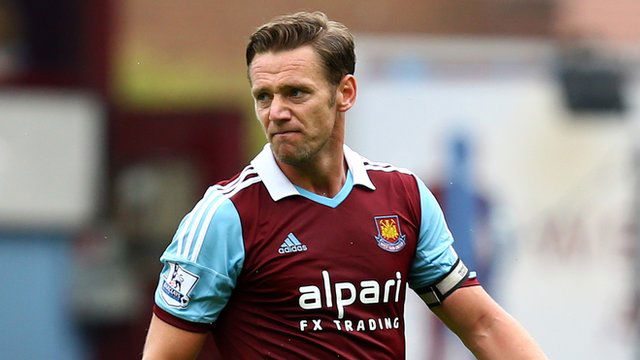 Hammers skipper Kevin Nolan has spoken of his private misery over a season disfigured by two sendings-off.
The captain was red-carded at Liverpool and Fulham during the club's "difficult" campaign  and said: "It was a joke."
But he claimed the team had been brilliant to recover to the point where they were likely to finish in a decent position.
He said: "But for the camaraderie and team spirit we wouldn't be where we are today. It' been difficult and really difficult for me with the two sendings off – it was a joke."
He recalled Saturday's opponents Manchester City arriving for the second leg of the Capital One Cup with a 6-0 lead from the first and being on the wrong end of a second defeat – 3-0.
He said: "Roger Johnson had arrived the day before. We had no central defenders, there were left backs at right back and right backs at central defence – it really was one of those seasons."
He hopes the team can take a little revenge against the Title chasers at the Etihad on the last day.
He said: "It would be nice to go up there and get something. We will give it a go."