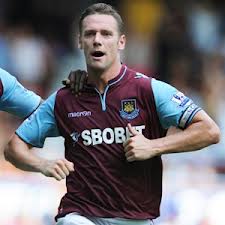 Shamed Kevin Nolan's disgusting dereliction of duty against Fulham finally proved what many have said for ages – the dressing room has gone!
For the scouser is more than Sam Allardyce's first lieutenant – he's the man to whom the manager has trusted his locker room and and on field behaviour for any number of years here and elsewhere.
Now – within a month – Nolan has twice been sent packing by refs at Liverpool and Craven Cottage for the same horrible crime – kicking out at opponents.
When your leader – who knows his manager's ways probably better than any other player in the country – can behave like that you know all the last vestiges of discipline are gone.
Twice in a month for exactly the same crime at a time when his team need him and every other fit player more badly than it's possible to express. That's criminal.
Such violent and disgusting behaviour is prohibited in any club. It is simply not on and Allardyce himself meekly declared afterwards: "I won't allow it."
What he hell is he talking about – it's happened. TWICE!
And what this means in reality is that nobody's listening to him anymore including the guy whom he apparently holds in higher regard than any other player.
The fact that it happened at Liverpool was bad enough, but that it should happen again so quicky as things go from bad to worse proves one thing and one thing only – the word of the manager and the plight he finds himself in counts for nothing. Nobody is listening and it appears the respect is gone.
Is the captain's behaviour one of a man who cares about his manager's instructions – no they emulate rather more the activities of a street hooligan from Tioxteth.
His actions demonstrate that he's not listening or even worse doesn't care and if that's where he is where are all the others.
For me and many others tonight one thought dominates – we want our club back and given all the above this means that Sam Allardyce's time is up.
We are West Ham and even though there are apparently no suitable candidates out there it doesn't matter. Just appoint someone who knows the West Ham way – pass and move!
To the two Davids I say here and now: If, as it seems, we are on our way down again, go and get someone either from inside or outside who will allow us to go down playing football."
As I wrote at the Claretandhugh facebook group: Let's be WEST HAM UNITED AGAIN PLEASE!