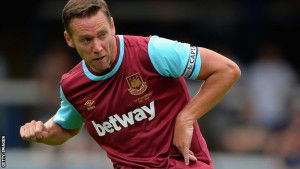 Former skipper Kevin Nolan admits he was a bit emotional returning to the Boleyn Ground last night.

"Coming back today is a bit emotional, it was a huge decision to leave but it was the right one. I am delighted to see them doing so well." Nolan told BT Sport cameras.

Nolan who was a BT Sport pundit last night also spoke about his admiration for West Ham manager Slaven Bilic: "He had a t-shirt on, very casual and relaxed and that is the way he was. He doesn't leave any stone unturned, and that is part of the reason they have done so well."
Kevin Nolan's honeymoon as Leyton Orient boss came to an end at the weekend after a 3-1 home defeat to Cambridge. Nolan had earned a third win out of four under their new player-manager at Portsmouth the weekend before.