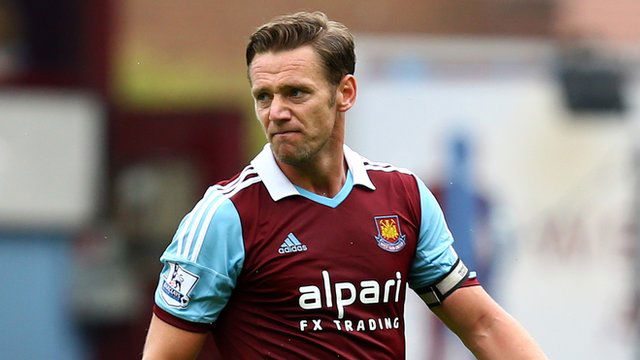 Captain Kevin Nolan may have helped let the cat out of the bag about his own and the manager's current West Ham emotions.
After the 1-0 defeat against Spurs he gave his first interview of the season,  to the attitude of the Hammers fans.
And sadly he appeared to have got it all a bit off centre as he tried to explain the current mood among many of them.
It would also have been very easy to shrug any questions off rather than tread in such a sensitive area – not Mr Nolan!
"Oh" he declared " this club is no different to any other – if you are losing they let you know and are not happy. If you win all is well."
Given that the captain is as close as it gets with the manager we may be able to assume that he is reflecting Sam Allardyce's view of things as well.
But I think it has to be said that if that's the case, they have both got it wrong.
We saw the manager trying to be more offensive yesterday yesterday but apart from one chance near the end from Stewart Downing – set up to be fair by a clever Nolan back heel – there was still little invention and creativity.
And that is the whole problem. West Ham fans of a certain age are used to seeing exactly that and until the Hammers can find a creative spark the criticism will remain and grow,
Most of the  team's attacking enterprise comes through the quick feet of Stewart Downing – isn't it rather a straightforward conclusion that we now need that through the middle.
Let's hope the player to provide it is Enner Valencia but for Nolan to suggest we are just a bunch of fans who are happy with a win and miserable with a loss is naive.
We know our football and we know what we want to see. That our new brand of "attacking football" failed to see us take advantage of a team with a man short for a long period helps to tell its own story.