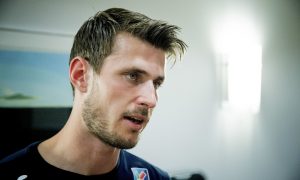 Hammer Havard Nordtveit has told Norwegian website Dagbladet that he cannot rule out a return to Germany.
He is quoted in Dagbladet as saying  "Currently, I let the speculation lie. I still have four years left on my contract with West Ham. I relate to it and I'm getting ready to participate in preparations for the new season. It starts in July."
"Yes, I had success in Germany. Absolutely. I was there for nearly six years. I will never reject a return to the Bundesliga."
Speaking about his move to West Ham he admitted "It was not like I had envisioned it to be"
German newspaper  Kicker report that TSG Hoffenheim, VfL Wolfsburg and Bayer Leverkusen are in a battle to secure the services of the 26-year-old.
Nordtveit endured a tough first season starting just 11 Premier League matches for the Hammers.
Nordveit is currently on International duty with Norway and played 90 minutes in the World Cup qualifying 1-1 draw with Czech Republic on Saturday.