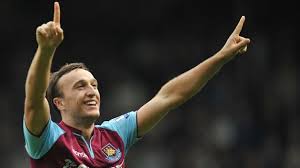 Mark Noble is as happy with West Ham United now as he was as a young kid making his way in the club.
And he claims that "people talk about the 'West Ham way' because of the talent we've brought into the first team over the years."
He said: "It's not just about the way we play football, it's about a connection with the fans.
"It's nice that myself and 'Tonks' (James Tomkins) are playing at the highest level here now after coming through the system and we need to keep the tradition going in future, 100 per cent. For me, that's the West Ham way.
"Don't get me wrong, last season a win was a win. We had to take them, however they came about. but this year, we have picked up points with a bit of style. As an experienced professional, you have to embrace different ways of winning football matches, but you have to enjoy the moments when you are getting patted on the back."
More often than not, Noble has been captain. He does not take the responsibility lightly and told The Mirror: Sometimes my dad says to me, 'You've got to realise what that means. 'To captain the club you grew up with is a massive feeling, it's very special."