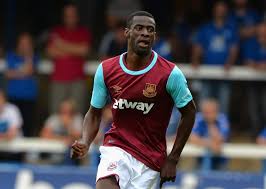 Pedro Obiang has cause for a double celebration – a new five year deal and being on course to be fit for the start of the new Premier League season.
Having undergone surgery on his ankle he was back at  Rush Green early to build up his strength and fitness ahead of the squad's return for pre-season..
And this morning he was with the squad as they flew out to Austria for a ten-day camp on Monday morning.
He said: "I am ready. I worked a little bit before I arrived at Rush Green and came back one week early to work with some guys inside [the training ground], and they helped me to be ready to start with the boys on the first day.
"I trained with the team at the end of last week to know if I was ready, then we will go to Austria to continue our training."
He added: "It is important for my confidence and also because I am starting on the same day as all my teammates. You can lose one or two days, of course, because sometimes it's better to wait, but in this case we worked hard and I'm ready."
"I think I have time [to be ready for the start of the Premier League season] because we are still in July and we have one month to work together.
"I am starting to feel confident in my ankle, so I think in August I will be ready to be at the same level [as I was before the injury]."