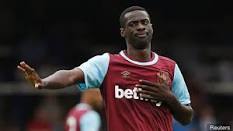 Pedro Obiang reckons the time is approaching when the Irons will become upwardly mobile!
The midfielder almost settled the game with a magical shot from just outside the centre circle which beat Ben Foster but bounced off the bar.
And afterwards he declared: "We've come through a difficult moment and we won the last game. We needed another point to start to move up to the middle of the table.
"Maybe this result is enough for us. We are a big team and we needed that point. We can take one point."
"For the defenders, for us, and for the team, it's really nice to keep another clean-sheet. We've played difficult games where we've conceded many goals but we're starting to play better, and play together.
"We just need to score more goals now."
Obiang explained hie today came from the confidence he's gained from Monday evening's goal against Huddersfield Town.
He explained: "I have friends who told me that when you score you have a higher capacity to score in the next game. So I said I would do it, but it didn't happen. Maybe next time!"