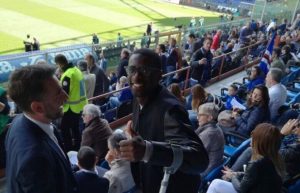 Injured Pedro Obiang watched his former club Sampdoria play at the Ferraris stadium yesterday before explaining he's one day want to play in in the county again.
He told GianlucaDiMarzio.com:"I had a slight injury, I'll be out for three or four months, but this allowed me to come support the team.
"In England I'm comfortable, at the beginning it was hard but slowly I found space, I was playing more but unfortunately, in football, this can happen: after a short stop I'll come back next season"
He was asked about his future and said "It's very likely I'll return to Italy, but I don't know when I would return here (Sampdoria) above all else, but you never know.
I would certainly like to return, everyone wants to but there are many teams, we'll have to wait a bit. Fiorentina? There were some simple discussions, but West Ham didn't want to sell me and I wanted to stay there"