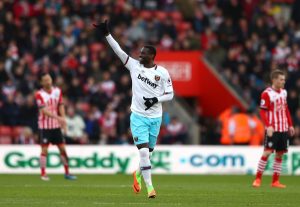 Pedro Obiang admits that he is having to learn to trust himself again after returning from his injury.
The midfielder as a little off the pace at Old Trafford but has pledged to get right back to his best over the next games.
He said: " "It's been difficult to come back to the team because I've had to get back to full fitness, had to trust in myself and had to have the same confidence in my ankle.
"It's not the same but I think you need time. I've been working with our physical trainer and at the moment I feel okay. I have a little problem but it's normal. I need a little time to be perfect."
The 25-year-old joked that he enjoyed the initial weeks of his lay-off due to the lack of running but was eager to return to the first team as soon as possible.
He is particularly looking forward to St mary's where last season he scored the first goal of his Hammers career and said: ""St Mary's is an important stadium for me. It's a lovely.
"I have beautiful memories because we won that game and I scored my first goal. I will try to score another one this weekend.
"There have been many changes in Southampton's team and they have signed some good players, which will help them do well. They try to play lovely football. We have to perform well against them and we have to be ready for the game."