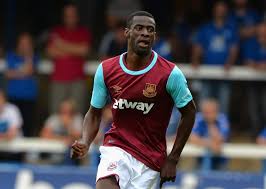 Pedro Obiang is ready for West Brom but expects a very different game to the draw at the Hawthorns.
The midfielder told the official site: "We need points and it will probably be a different game. Both teams have new managers, and we both know that with three points everything can change. It's happened with Everton and we are looking to do the same."
He believes there is much more to come from the Irons and says:  "The biggest change is with the mentality. We have to keep going and we're still working for that."
And of manager David Moyes, he said: "He's a strong personality and he's tried to put that in us. He's trying to give us a plan to follow little by little. Maybe we haven't done it perfectly so far, but we are close to getting to the level he wants."
Marko Arnautovic is a big example of that after scoring five goals in as many league games, and Obiang said: "Marko has done great things.
And Obiang said: "aHe found himself in a bad situation at the start of the season and worked a lot to come back. He concentrated a lot on that because he knew how important it was for the team and for the supporters.
"After that, he's changed us too. Now we need to arrive at his level and help him to become even stronger than he is.
"I can do better and I need to work [hard to do that]. That's the only way I know, and little-by-little take some results. You have to start from there, you have to think about what you can do now and that's what I need."