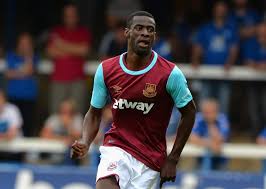 Pedro Obiang is hoping to be back in the Irons squad for the match against Leicester next month.
Manager David Moyes revealed today that the midfielder was closing in on a return to action with the early predictions being that he would be out until next season.
But we were told this evening that the backroom team – whilst never making firm predictions – are hopeful that he will be available for the the game against the Foxes.
The 25-year-old Spaniard suffered medial ligament damage during West Ham's  FA Cup defeat at Wigan on January 27. His absence has been a big miss in midfield with the natural balance of the team having been upset as a result.
He underwent surgery to repair the medial collateral ligament, and the club and the medical staff are pleased with his progress.