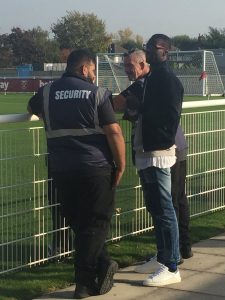 Pedro Obiang showed his support for the West Ham Ladies this afternoon as they took on Coventry Ladies at Rush Green stadium.
The West Ham midfielder was a surprise supporter standing by the side of the pitch flanked by two security guards. However, the security guards didn't need to bother as the crowd of around one hundred supporters were there to watch Ladies football and many didn't know who he was and no-one bothered him.
Obiang explained he had planned to go to the London Stadium to watch the Under 23's but instead came to Rush Green to show his support for the West Ham Ladies.
West Ham Co-Chairman David Sullivan and West Ham Ladies managing director Jack Sullivan were also present at the game to show their support. On a delightfully warm and sunny Sunday afternoon the girls went one nil down on 20 minutes only to pull it back to one all by half-time thanks to a goal by Ezekiel-Meade. Despite a gutsy performance, the Hammers Ladies lost 2-1 to Coventry by the full-time whistle.
The next West Ham Ladies game at Rush Green will be played on Sunday 29 October at 2pm against Crystal Palace. Entry is free for West Ham Season Ticket Holders, Members and U16 with Adults charged £2