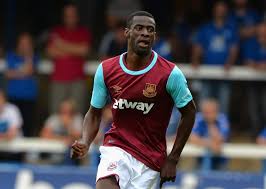 Pedro Obiang has heaped praise on his teammates as he reflects on his second season at West Ham in the latest issue of Blowing Bubbles Monthly.
The midfielder's absence for the rest of the season was one of the most depressing issues in a horrific few weeks last month that saw us hit a new slump.
But he has vowed to return a better player and reiterated his desire to be at the heart of West Ham's progression in our new home.
Asked about why his form improved so much this season, he told Blowing Bubbles: "I think it's because now I know the league, I know my teammates better.
Last season I arrived after playing for eight years with the same club, the same people and I was with my family, so it was easy then.
"I came here for new dreams, a new team, a new stadium and everything was different. So the first impact wasn't very big.
But this season I know everything better, the people know me, my teammates give me space, and it's because of that I think I've become a better player."