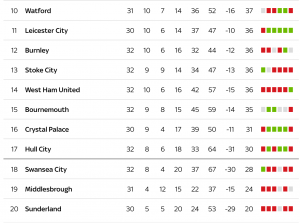 Bookmakers have lengthened the odds of West Ham getting relegated to a remote 66/1 overnight after a scrappy one nil win over Swansea at the London Stadium.
Betway, Coral and William Hill had the Hammers as 10/1 for the drop pre-match yesterday but those fears have now eased after earning three valuable points.
West Ham was the only team to win in the bottom half of the Premier League table yesterday and they now sit in fourteenth place on thirty-six points just one point behind Watford in tenth place.
West Ham is now eight points above the drop zone with Crystal Palace, Hull and Bournemouth all between them.
West Ham joins Burnley, Stoke and Leicester on thirty-six points with a three-goal difference separating them.
Sunderland, Middlesbrough and Swansea are now all odds on favourites for relegation.
West Ham has yet to play Sunderland, Stoke and Burnley away and still have Everton, Spurs and Liverpool to face at home.