IRONS of a certain vintage don't need to told about the Chicken Run and, come this Saturday, there is absolutely no reason why David Moyes' team can't give Manchester United the bird!
Here Claret&H's Northern Correspondent Terry Robbins explains the how and why…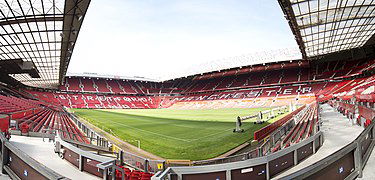 The chickens are certainly coming home to roost at Old Trafford this season and this may be the perfect time for Hammers to take advantage of some serious fault lines which exist at United right now.
From training ground to the dug out, there is a constant theme of discontent; players briefing against each other, caretaker boss Ralf Rangnick seemingly not knowing from one day to the next whose nose is out of joint.
We only have to see how Cristiano Ronaldo reacted to being substituted in Wednesday night's 3-1 win at Brentford, throwing his toys out at the temerity of being replaced by Marcus Rashford.
What was also evidenced at Brentford can give Moysie plenty of encouragement. The Bees could have been three goals to the good in the opening 45 minutes, but for the excellent  goalkeeping again of David de Gea.
It was the Spaniard who denied us a deserved point at the London Stadium, earlier this campaign, saving Nobes penalty in stoppage time, albeit his first kick of the ball after coming on as a sub.
Rangnick has yet to stick to a settled formation and flits between a back three and back five. He's loathe to trust the defensive nous of full-backs Aaron Wan-Bissaka and Luke Shaw in a conventional four.
United just don't have the technical proficiency to bring the ball out from the back, preferring to soak up pressure and hit opponents fast on the counter.
The Old Trafford crowd has become edgy this season, caught between willing their team on in attack, but watching from behind their fingers when the ball breaks down in transitions, especially against sides who don't panic and can find a pass through the middle.
Rangnick prefers to keep the pitch as wide as possible but as Wolves and Aston Villa has both recently shown, it leaves a massive void behind the base of United's midfield when they are caught high up the field
Scott McTominay and Fred are workmanlike, but are cruelly exposed, time and again, when opponents can break on them.
Of course they have a certain eyebrow sculpted predator playing up top, but Ronaldo's reluctance to press from the front is also the precursor to teams being more successful as the game wears on.
If the Hammers can score early, then happy days, as United aren't the type of team who are able to play through the defensive lines, relying more on crossing from deep and set-pieces.
Antonio needs to play high up on Raphael Varane and use his brute strength. If he can ensure some decent hold up play, that's when our midfield lads can run beyond and test De Gea.
This is a United team who don't want to do the hard yards. Yes, they have individuals who can punish  if players don't do their jobs correctly, but there is a fragility which Moysie needs to stress.
We have already shown against Chelsea and Liverpool this season our team collective can overcome opponents far superior to this current United incarnation.
Irons' fans will not count our chickens, obviously, but there's enough room for optimism to suggest we don't need to flap and can give our top-four chances a much-needed boost in the process.