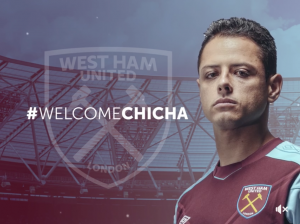 Javier Hernandez was officially announced as a Hammer tonight after weeks of speculation.
The Mexican has signed a three-year contract with West Ham thought to be worth up to £140,000 per week with a £16m transfer fee going to Bayer Leverkusen.
"I am very happy to join West Ham United," he told WHUFC.com "For me, the Premier League is the best league in the world and when the opportunity came, I was desperate to sign for this club.
"It was not a difficult decision. West Ham is an historic club, and very ambitious – this summer you can see with the players signed that they are looking to have a very good season.
"I've had three fantastic years playing in Spain and Germany, but England was really the first big chapter in my career and I am so happy to be back.
"I am desperate for the season to start and to help the team achieve all their objectives."
Welcome Hernandez pic.twitter.com/M7aZmb14oD
— West Ham Football (@westhamfootball) July 24, 2017