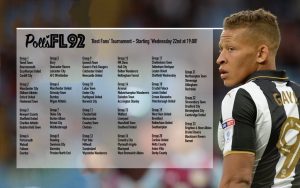 It is now official, West Ham has the best fans in England according to a poll of over 14,000 social media users.
West Ham won the final of a FL92 Poll which started with all 92 clubs with the Hammers picking up 34% of the vote beating Everton into second place with 26%.
Leeds and Sheffield Wednesday came joint third with 20% of the vote each.
West Ham qualified through the early round of 23 groups, moving on to the quarter- finals and semi-final in different polls before reaching the final poll voted on by 14,097 twitter users to beat 91 other clubs to accolade.
The Hammers were drawn in round one against Southampton, Brentford and Rotherham. After sailing through round one they were up against Bournemouth, Chesterfield and Plymouth Argyle in round two. In Round three we beat Spurs, Brighton and Wolves.  The quarter-final saw us see off Newcastle and Oxford before beating Portsmouth in the Semi-Finals.
4,793 fans voted West Ham as having the best fans in England. We always knew it of course but it is nice for others to finally acknowledge it 😉
The WINNERS as voted by you, the fans, as having the best fans in England is West Ham United!#WHUFC pic.twitter.com/jhJg9e5qNQ

— FL92 Polls (@PollsFL92) March 28, 2017