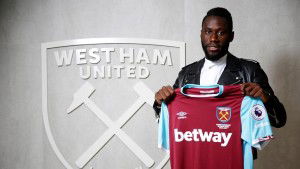 West Ham has officially confirmed the signing of French left-back Arthur Masuaku. The 22-year-old arrives from Greek Superleague champions Olympiacos on a four-year contract for a transfer fee believed to be around £6m.
The Lille-born defender, who has won back-to-back domestic titles with the Piraeus club, has played more than 100 senior games despite his tender age, including 12 in the UEFA Champions League.
"It's a big honour for me to be part of this Club," said Masuaku to WHUFC.com. "I was speaking with my agent about some opportunities, but when he told me about West Ham and also the coach, I didn't think twice, so in my mind, it was West Ham.
"Now, to be able to play with players like Dimitri Payet, I was thinking on the way here, it's going to be crazy! I can't wait to play with him and also all the rest of the team.
"For me, the Premier League is the biggest league in the world. When I was 18, my target was to come here, so now I am here, I have to prove myself to the fans and to the team so that I can play for this big Club. To be able to play with players like Dimitri Payet, I was thinking on the way here, it's going to be crazy! Masuaku in UEFA Champions League action for Olympiacos last season