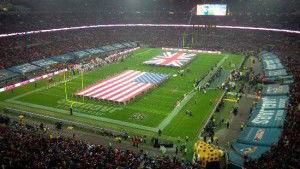 Yesterday's publication of the agreement between the London Legacy Development Corporation and West Ham United makes a number of references to the possibility of NFL American football being played at the Olympic Stadium.
Under the section marked floodlighting it states provision to be made for current best practice flood-lights designed to support top level Football, athletics, rugby and American football without physical alteration and suitable for 3D television.
It also states artificial 3G grass will be installed between the touchlines and the running track, with pockets installed for football, rugby and National Football League goal posts.
This is the biggest indication to date that Stadium operators Vinci will attempt to attract American football teams to play in the stadium.
Wembley stadium has been the London home of the NFL International series. The New York jets played the Miami dolphins in front of 83,986 American football fans a few days ago. The Buffalo Bills are due to play the Jacksonville Jaguars on October 25 and the Detroit Lions will play Kansas City Chiefs on 1 November to complete this year's UK tour.
Earlier this year Spurs and the NFL announced that agreement has been reached for a minimum of two NFL games per year to be played during a 10-year partnership at their new stadium in North London.
It now looks likely that the Olympic Stadium operators plan to do a similar deal with the NFL.