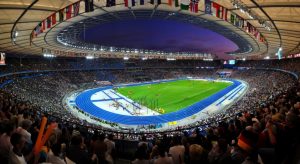 Berlin's Olympic Stadium — where Jesse Owens won four gold medals and Usain Bolt broke two world records will soon lose its running track and athletics field under renovation plans.
Plans were announced last week that the German iconic venue will be converted into a football-specific stadium for Bundesliga club Hertha Berlin. The famous blue running track will be gone after it hosts the 2018 IAAF World Championships.
On Saturday, Berlin Mayor Michael Mueller said the renovation could still allow for a removable track to keep the option for hosting track and field at the stadium, according to a Berlin newspaper.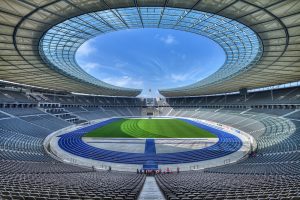 The Olympic Stadium was built for the 1936 Berlin Games, where Jesse Owens won the 100m, 200m, 4x100m relay and long jump in the face of Adolf Hitler and Nazi Germany. A street just outside the stadium was renamed Jesse Owens Allee in 1984.
It was renovated before hosting 2006 World Cup matches and then held the 2009 IAAF World Championships, where Bolt set the current world records in the 100m (9.58 seconds) and 200m (19.19).
Perhaps Germany has learnt lessons from the attempts of turning the London 2012 Olympic Stadium in a multi-use venue to host both football and athletics.  The London Stadium will host 2017 IAAF World Championships this August, I wonder whether the Stadium owners will make a similar decision after the World Championships.