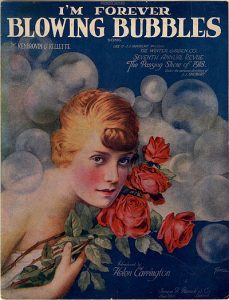 2018 makes the centenary of the debut of the song 'I'm forever blowing bubbles' which was first performed in a musical called 'The Passing show of 1918' on 25th July 1918 at the Winter Garden Theatre in New York.  The music was written by John Kellette. The lyrics are credited to "Jaan Kenbrovin" — actually a collective pseudonym for the writers James Kendis, James Brockman and Nat Vincent, combining the first three letters of each lyricist's last name.  The song also became a hit with the public in British music halls and theatres during the early 1920s.
"I'm Forever Blowing Bubbles" was introduced to the club by former West Ham manager Syd King in the early twenties. A player, Billy J. "Bubbles" Murray who played for the local Park School had a resemblance to the boy in the "Bubbles" painting by Millais used in a Pears soap commercial of the time. Headmaster Cornelius Beal began singing the tune "I'm Forever Blowing Bubbles" with amended lyrics when Park players played well.
The Alex Mendham Orchestra is paying tribute to 100 years of the song by recording a new version which can be seen below.
Paying tribute to @WestHamUtd. A 100 years of their anthem Forever Blowing Bubbles! Had great fun with this one!#COYI #Westham #centenntial#100years @westhamladies @westhamfootball @karren_brady @jsullivanwhu @whufc_news @WHUFoundation
Music courtesy of @AlexMendhamOrch pic.twitter.com/T7uqssZkNE

— Alex Mendham Orch. (@AlexMendhamOrch) April 10, 2018