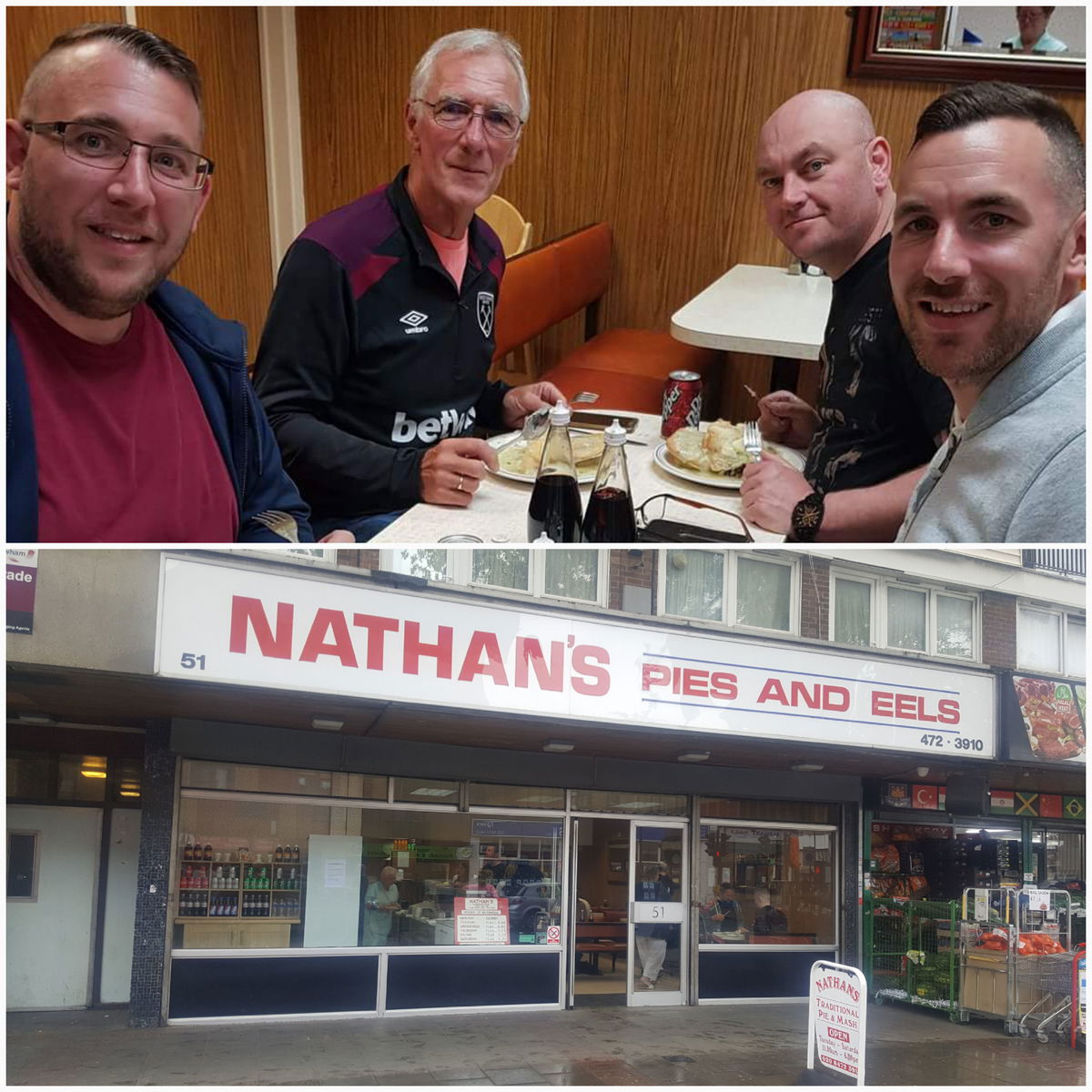 ClaretandHugh blogger Allen Cummings (above second left)  describes the hardest of trips down memory lane to Nathan's and how much it hurt! 
As soon as I saw the sad news that Nathan's Pie and Mash shop was closing, I knew I had to pay one last visit.
An important and integral part of my matchday experience for more years than I can remember, Nathan's will be, in its own way, as sorely missed by me as the grand old lady of Upton Park herself, just around the corner.
So I felt compelled to take a trip down Memory Lane last Saturday, for one last serving of nostalgia.
Ironically the traffic around the Barking roundabout was just as heavy as it always used to be on matchdays. Followed by the customary slow crawl down the Barking Road to the Boleyn. It was as if the fates had conspired to re-create the moment perfectly.
Parking nearby was near impossible, too. Some things never change. With resident parking permits required in all surrounding side streets. So it was fortunate to find a parking spot by Central Park, as we sometimes did, before the resulting 25 minute walk back to the ground. That's almost twice as long as the walk I make now from Stratford station to the London Stadium. Just as a point of interest.
Strangely I found myself almost disappointed by the lack of a long, snaking queue stretching back from Nathan's to at least the Dr. Who shop – sometimes even further.
This meant at least an hour's shuffling wait as we edged ever closer to those pie shop front doors. But that never seemed to bother anyone, with the promise of what was to come at the end.
The same lovely ladies, in their familiar green and cream checked aprons, occupied the serving area behind the high counter. With the 'senior' server looking no different to how I remember her looking for years.
When I uttered the famous words "Double Double with green gravy please", it somehow felt as if I'd never been away. The wonder of Nathan's was that despite the non-stop customer flow on matchdays, I was never, ever left without a place to sit and eat my meal once I'd been served.
Like an eighth wonder of the world, the rotation of dinners coming and going was amazing. A perfectly tuned,  well-oiled machine that never ever faltered.
The famous East End fare was as delicious and satisfying as I always remembered it. Laced before consumption with a generous helping of vinegar – and eaten with a fork and spoon. Traditional style. Very important that – to me anyway!
I savoured every mouthful, as if it was my last. And of course it was. At Nathan's at least. Finally, with not a single morsel left on my plate, I rested my cutlery, and prepared to say goodbye.
Not a lingering farewell because I knew full well the emotion of the occasion might get to me. Daft as that may sound to some over a simple meal. But it wasn't the meal alone, of course. There are other pie and mash shops around that I know, and will definitely use. But this one was special. This was Nathans!
I was first introduced to this east end favourite growing up in the 50's, at a shop called 'Ollies' in old Rathbone Street market in Canning Town.
But I discovered Nathan's when I discovered West Ham, and I've been in love with both of them ever since. Now I've lost half of my not-so-secret love affair. And it hurts. It really hurts!