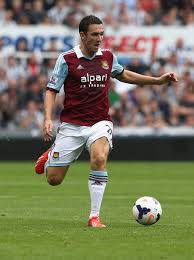 Stewart Downing is refusing to look over his shoulder at THE relegation dogfight beneath the Hammers.
Instead the winger – so influential in the February revival – is focused on Manchester United this weekend and looking onwards and upwards.
He said: "We are still confident that we can get out of it, the four wins on the trot proves that but we have lost two on the bounce and we have to correct that.
"We have got Manchester United at home next and we have to get some more points on the board.
"We are disappointed we have lost the last two games, especially the goals we have conceded, they have been poor and I didn't see it coming.
"Man United had a tough game against Liverpool and play in Europe so we want to make it tough for them as well."