We ran a blog from The Cat claiming that social media outrage sackings of managers  were the actions of weak chairmen. Here – in the interest of balance – another of our followers makes his case on our current troubles.
By Hammerpete6
Statistically and objectively we are very likely to end up bottom three and relegated.
Our current set up does not win games. Ironically, the freedom employed in Europe has success, but is put straight back in the cupboard for the league.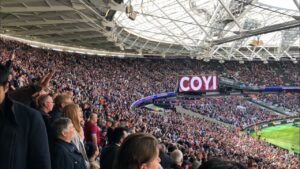 In contrast to our risk averse subs, Everton brought on a young player and he won them a point at Chelsea. We have six wins this season. We must assume we need five more. We play five teams around us, three of those away in Bournemouth, Palace and Leicester.
Must win at home are Leeds and Southampton. Meanwhile we have to face Newcastle, Arsenal, Liverpool, Man U and Man C.
If we continue with two DCM and one up top, walking football with no pattern, subbing like for like swaps after 70 mins, then more swaps last 5 mins, no bravery, hand brake on football, we go down and we deserve it.
We are playing like a blank page in a league full of literature. I am so truly disappointed and sad.