Leyton Orient play Rotherham United today in the League 1 play off at Wembley taking 22,000 fans for the occasion.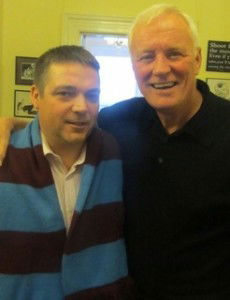 And promotion to the Championship could well  improve the O's chances of achieving a ground share agreement with the London Legacy Development Corporation (LLDC).
Last year I interviewed Orient chairman Barry Hearn and he said "This is state sponsorship beyond my wildest dreams.
"In effect it's rent free as they have ability to develop Upton Park." referring to West Ham's move to the Olympic Stadium.
He claims the Hammers got the "the deal of the century"
The London Legacy Development Corporation confirmed last year that it had no objection to Orient chairman Hearn negotiating a rental agreement with whichever firm ends up operating the Olympic Stadium, something that could lead to the club playing all of their home games there.
The statement followed a meeting between the London Legacy Development Corporation and Hearn, set up in the wake of the House of Lords report last year into the Olympic legacy, which recommended that Orient be allowed "occasional use" of the stadium.
Promotion today could improve his shares of a ground share but he will have to complete with Daniel Levy if rumours are to be believed.
Our pic shows a seemingly hesitant Sean getting an arm round the shoulder from Mr Hearn!