Band 5 season tickets for £289 have now gone on sale at the West Ham reservation centre in Stratford this week. One new West Ham season ticket holder at the front of the priority list snapped up his cheap season ticket in block 214 today. The cheapest season tickets in the Premier League are located in the upper tier corners of the Olympic Stadium and offer adults Hammers football at just £15.21 per game.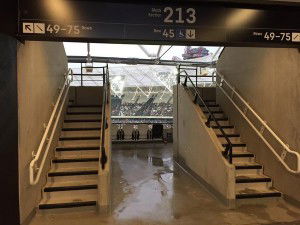 Salesmen at the reservation centre claimed to the new season ticket holder that there are as many as 34,000 fans on the waiting list with just 9,000 seats left to sell. Visitors to the sales office were also told that Band 1 is fully sold out with the last 15 seats sold on Wednesday this week.
Some punters attending their appointments were also told Westfield will sell football parking for £5 per day but we have no official confirmation on this.
Earlier this week West Ham co-Chairman David Gold confirmed there are over 10,000 on a waiting list for season tickets by saying "We will have over 10,000 on a waiting list for next season. dg"