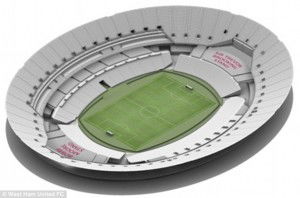 While Claret and Hugh applaud West Ham's board attempt to bring affordable football to families and throwing down the gauntlet to other Premier League clubs, there remains one important piece of the jig saw missing.
West Ham have not released a seating plan of the Olympic Stadium showing the areas and numbers of new and existing bands.
Without this crucial additional information it is difficult to judge how great the much heralded discounts are going to be worth in reality.
For example if a current Band Four season ticket holder in Sir Trevor Brooking lower behind the goal wants a similar seat does he/she need to move to band three to get a similar view? If that turns out to be the case the majority of the discount would be wiped out in instant and it was a just another clever marketing ploy.
West Ham say individual season ticket holders will be shown the seating plan and a virtual view at the Stratford reservation centre during their personal appointment.  For some supporters in Band Four this will not be until next year.
What have West Ham got to hide? Why do they continue to drip feed information in relation to the Olympic Stadium? It would much better to be transparent and put all the cards on the table.