West Ham has suggested the issue of supporters standing in front of their seats at the Olympic Stadium from next season is 'a stewarding matter'and not one for the club to answer.
The question was asked at the West Ham Supporters Advisory Board on Tuesday evening and was given a "stewarding issue" answer.
Irons fans have been reacting to the whole  'to stand or not to stand' issue. Here's a sample of their views.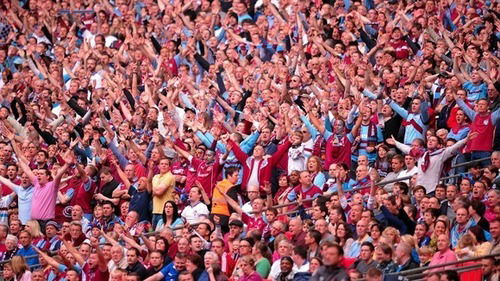 O I hope you can get get away with it, sitting down kills the vibe
O  I'm in my 60's, have a bad back, and won't be happy if I've paid £400 to stand!
O Realistically can they stop 4k + supporters standing? Trying to eject them would result in a riot.
O They should have one designated area, that all who are buying tickets can either choose or avoid, but I suppose that means taking responsibility?
O  If it's a case of numbers & safety, maybe area/s where you have fixed 'bench ' style seating-but with lined numbers marked. That would allow control of those that are there, but allow for continuous standing.
Other areas remain single seating to accommodate worn-out, pain-ridden pep, like me?!!
O  It's not the 70's. There are far more women and kids now (often little more than toddlers) the game and the whole match experience has changed. We are moving into a world class stadium; stop trying to pretend it will be like the collection of animal pens most of the ground was 40 or 50 years ago.
O  I prefer to stand. This season i'm in BMU and I don't enjoy it as much. I think anyone that chooses to sit in BML, or Chav Corner, knows they are going to stand. The difficulty, going forward, is not knowing where the 'unofficial' standing areas are going to be. It will take a season or two, to establish this and people will change their seats accordingly.