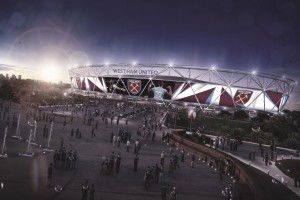 The new high-definition (HD) screen due to be installed on the alternative digital wrap outside the former Olympic Stadium is facing a race against time to be installed before the kick off  of the first Premier League match against Bournemouth on Sunday 21st August.
The new screen will be one of the largest in Europe measuring 83m wide by 12m high. We understand strict government procurement procedures have delayed the purchase and now there is a good chance the giant TV will not be in place for the start of the Premier League season.
The TV screen will be flanked by 68 12m high fabric panels similar to those used at Wembley Stadium, and the Emirates Stadium. These will soon be installed along side the new West Ham United illuminated sign which arrived at the Stadium this week.
The claret and blue themed fabric panels on the new wrap will contain five West Ham United crests measuring 6.8m high and 7.5m wide, as well as other signage and branding for West Ham and the Stadium Sponsor, and will be uplit during specified hours of darkness. Stadium part owners, London Legacy Development Corporation (LLDC) recently approved a further budget of £5m to fund the Stadium wrap as it wasn't included in the original £272m stadium transformation budget.